cups & trophies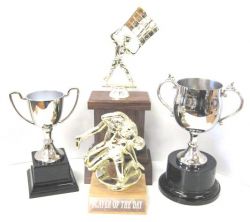 Select from a wide range of cups and trophies for all occasions and have them engraved on-site. From miniatures to monsters, have the cup engraved or attach an engraved plate
We have a wide range of engraving machines to cater for all your engraving needs, from glass to steel, and rings to brass plaques.
From a Name and Date on an existing cup or trophy, To an all new Cup or Trophy engraved on-site by our skilled staff, to your specifications.
Extended range of cups and trophies.
Related Categories